ZK-AQU Douglas DC-3CS1C3G (c/n 16386/33134)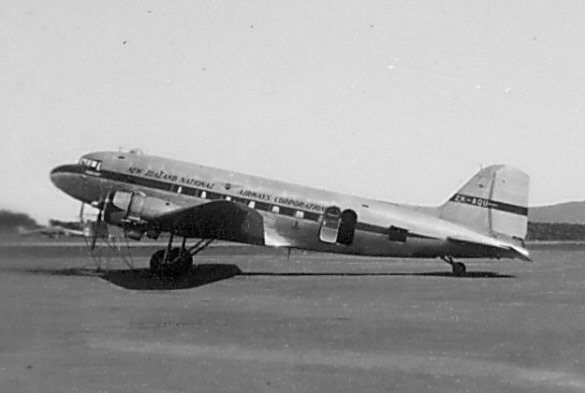 I also have a shot of ZK-AQT but it is even worse than this, so elected not to show it.
Anyway, ZK-AKU was another of the C-47B-30-DK's used by the RNZAF, this one
being ex NZ3542. It was converted to civil standards by Fairey Clyde in Australia in
1948, although it had been on loan to NZNAC whilst still camouflaged. It was withdrawn
from NZNAC service in 1965 and returned to the RNZAF. It was then converted to a
paradropper and delivered to 42 Squadron, reverting to NZ3542. Recivilianized in
1978, ZK-AQU was sold in Singapore to Island Associates of Moroni in the Comoros
Republicas D6-CAH, although it was not actually ferried to Singapore until 1981.
It then followed sister ship ZK-AQP into the South African Air Force (as 6846).
Conversion to a turbo-prop by Wonder Air followed in 1990s, but it was then dismantled
and stored at Wonderboom Airport, just north of Pretoria. It was sold to Dodson Aviation
of Ottawa, Kansas as N8241T although was still at their Wonderboom base as late as 2003.