ZK-AQC de Havilland D.H.82A Tiger Moth (c/n DHNZ179)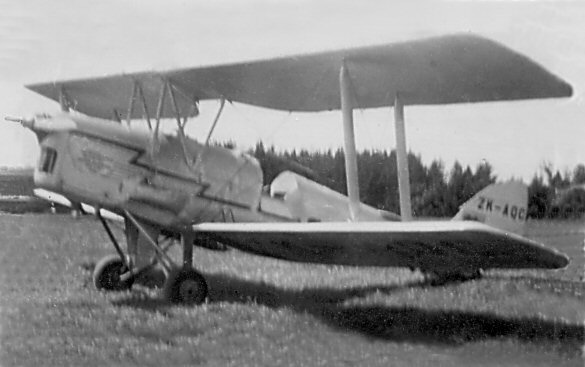 This print really is awful and I do apologize for it. This is the absolute best I can do.
This aircraft was built at Rongotai and became NZ1499 with the RNZAF. It was
civilianized in 1947 and went to the Gisborne Aero Club. It was sold to Gisborne
Aerial Topdressing Ltd in 1949 and converted to a single seat topdresser. ZK-AQC
was dismantled on 26 June 1954, and was then stored on a farm near Gisborne. This
aircraft is now owned by Wayne Greaves and was to have been restored as a father
and son partnership. Sadly, Scott Greaves was killed in a tragic motorcycle accident
(early 2007). ZK-AQC will be restored at the Gisborne Aircraft Preservation Society
(GAPS) hangar by surviving Gisborne Aerial Topdressing Ltd engineers in memory of
Scott and also Lawson Field, the founder of Gisborne Aerial Topdressing. Hopefully,
when that project is completed a better image of -AQC can be presented. I append
below a recent photograph in memory of Scott sent to me by his brother, Shane.
May he rest in peace.