ZK-AQA de Havilland D.H.82A Tiger Moth (c/n 82355)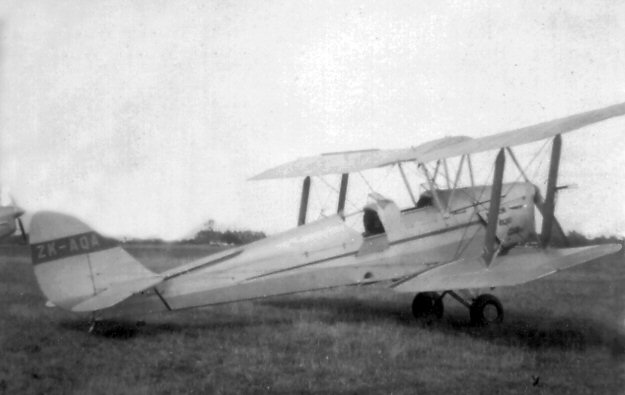 ZK-AQA was a Hatfield built Tiger, assembled in New Zealand in 1940 as NZ863. It
was sold to a Mr. J. Reid in 1947. In 1950 it went to the Nelson Aero Club, and is shown
in their service in the grainy old image above. After several owners it wound up with the
Auckland Gliding Club in 1961. Kevin Smith, an ex glider tow rating instructor, now
living in Blackburn South, Vic advises the following:
On 25 January 1965, while towing the glider ZK-GAD the pilot of ZK-AQA, Len Hill,
lost control of the aircraft when the combination became clear of a hedge which was
upwind of the take-off from the grass on the left side of RWY 03 at Ardmore, and
somehow allowed the aircraft to be blown downwind by a reasonably strong northerly
wind. The glider pilot released the tow and landed straight ahead while the Tiger Moth
continued to turn downwind at very low level until the right wings hit the gutter of Ardmore
Teacher's College and cartwheeled the aircraft into the roof of the building. The engine
and prop penetrated the ceiling of the Principal's office where a meeting was being held.
Although badly damaged it was stored as a possible rebuild, and its remains are possibly
still around today (at Dairy Flat?).