ZK-APK Douglas DC-3CS1C3G (c/n 16967/34227)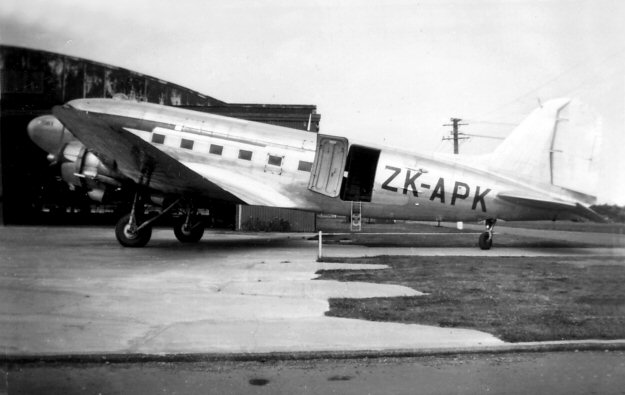 The above photograph of ZK-APK is rare in that it shows the aircraft in 1947 as it was when just
released from its RNZAF duties as NZ3556. It was then converted to full civilian standard by ANA
in Melbourne. The lower shot shows it in standard early 1950s livery. Note substitution of military
freight door with the rounded civilian one. New Zealand National operated it until 1962 when it was
converted to DC3-D Skyliner status as "Kaikohe" in Christchurch in 1964. It was leased to Fiji
Airways as VQ-FAH from May to October of 1967. Returning to New Zealand it went back to
NZNAC for a period and was then sold to Airland (NZ) in 1969 and was converted to a topdresser.
It went to Fieldair in 1978, and was finally withdrawn from use in 1981. It wound up as a tea room
at the Rangitikei River Adventures in Mangaweka.