ZK-AOI Douglas DC-3CS1C3G (c/n 16966/34226)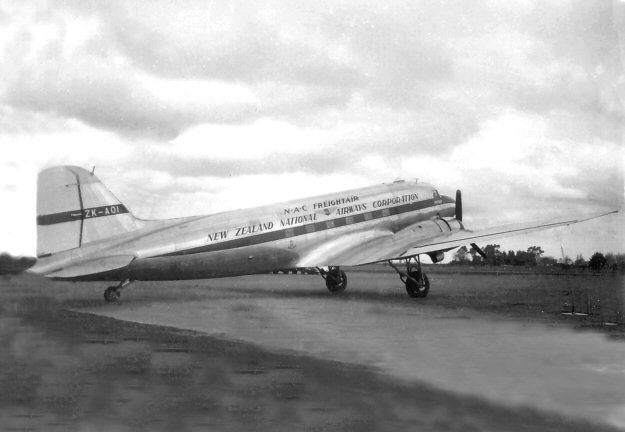 ZK-AOI worked the Freightair service for NZNAC, as seen in this (very) uncontrasty
shot, circa 1952. When its service days were over at NZNAC the aircraft was sold to
James Aviation and was used as an "Ag-Dak". This operation of Douglas DC-3s in an
aerial topdressing operation was surely unique in New Zealand. I do not recall any other
country using these ancient transports to dust crops. Most topdressers of the day used
Tiger Moths or Austers although Ossie James saw a need for increased capacity and
adapted the DC-3 to the role, much in the way that fire-fighters use large aircraft for
borate drops. In the event, the aircraft was being operated by James' subsidiary
Southern Super Air on 23 Feb 1973 when the starboard wing collapsed due to a loss
of structural strength. The accident report said, in as many words "the DC-3 wasn't
designed for aerobatics" (which is basically what it was being asked to do) and, as a result,
the wing fell off. The pilot was killed following the crash into a hillside.