ZK-NZA McDonnell Douglas DC-8-52 (c/n 45750)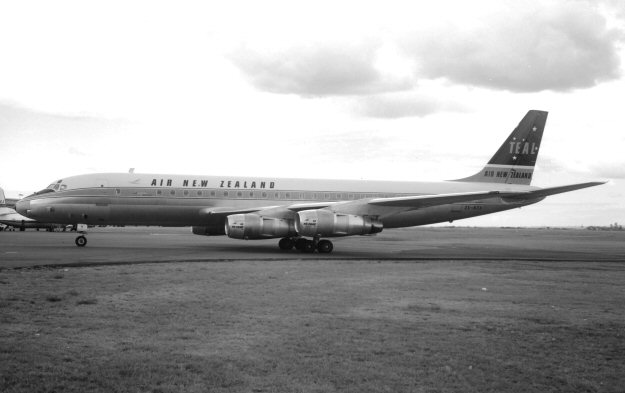 In April 1961 the New Zealand Government bought out the Australian Government's shareholding
in Tasman Empire Air Lines thus making it a wholly owned New Zealand venture. When, in 1965,
the first of TEAL's DC-8s was delivered, a decision had been made to change the airline's name to
Air New Zealand. In order to retain a semblance of the old identity, however, ZK-NZA, at least,
was delivered carrying both titles as Greg Banfield's shot above, taken at Mascot in December 1965
attests. By the time Greg saw it again, almost a year later (below) it had shed itself of the old TEAL
image. After over a decade with Air New Zealand, ZK-NZA was sold in January of 1977 to
Evergreen International as N801EV. It was eventually retired and the hulk resided at Marana-
Pinal Airpark in Arizona for several years.