ZK-BUV Lockheed 18-56 Lodestar (c/n 2152)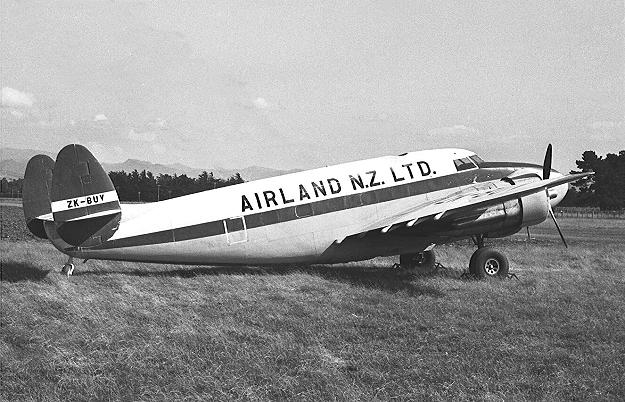 Actually outside of "my era" as far as New Zealand civil aircraft goes, I am including this nice
shot taken by David Molesworth in 1967. ZK-BUV was one of six Lodestars acquired by
Fieldair Ltd in 1957 for topdressing duties. This aircraft was actually built as a C-59 for the
US Army Air Corps as 41-29631, and then Lend Leased to the RAF as EW984. After the
war it served with the Spanish Air Force as EC-22 and then for the airline CANA as EC- ???.
At some point in its career it was converted from a C-59 to C-60 (Lockheed 18-56) status.
It is seen above in Airlinand(NZ) livery. Airland was formed by the merger of Fieldair, James
Aviation, Rural Aviation and Air Contracts Heavry Aiorcraft Divisions.