ZK-BGC Douglas DC-6 (c/n 43128)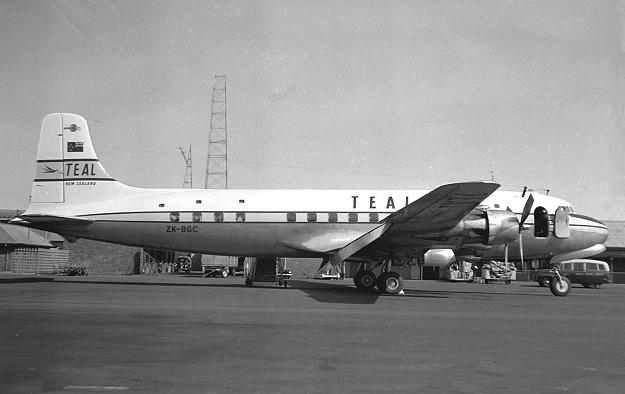 This was the third and last of the ex-BCPA DC-6s to enter the New Zealand register. The nice
image of it above was taken by Jim Dyson at Mascot, circa 1954 (via the David Molesworth
collection). It was formerly BCPA's VH-BPH. TEAL named it 'Arahia'. Like the other two,
it went on to serve in the RNZAF (as NZ3633) and then went back to the U.S. (N255N), and
followed a similar history path to ZK-BGB. However, this machine remained in the US and
wound up at Chandler, Arizona as N90MA being cannibalized for spares for other fire-fighting
DC-6s. Ken Tilley took a nice shot of it there in April 1997 (below). A somewhat ignomious
end for such a grand old lady. However, there is a sequeal to the story. The cockpit portion
was acquired by Finnish flight simulator enthusiast Pekka J. Kauppi who had it shipped to Fin-
land. Pekka reports (2011) that restoration work has taken a great deal of time and money
since the cockpit was so stripped from all components. However, he has now found most of
the replacement items and intends to integrate the layout to MS Flight Simulator stratus! So in
a way, the old bird 'flies' again! .Images of Pekka's work appear at the foot of the page.