ZK-BGB Douglas DC-6 (c/n 43127)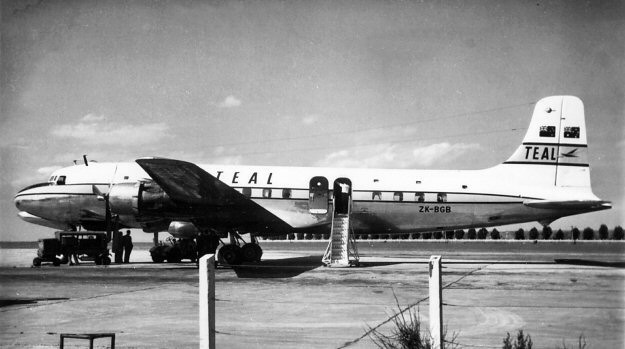 Actually, these TEAL DC-6s had originally been ordered by Scandinavian Airlines System,
and this one was to have been SE-BDI. In the event they were not taken up, and 43127
went to BCPA instead as VH-BPG. TEAL named it 'Arawhata' (Bridge) when they took
delivery in 1954. My shot above was taken at Essendon, Melbourne, whilst Jim Dyson's
(below, and courtesy of David Molesworth) was at Mascot. Like the other two aircraft,
ZK-BGB went to the Royal New Zealand Air Force in 1961 becoming NZ3632. It was
sold back in the USA in 1964 (as N254N) and then spent a spell with Pacific Western Airlines
as CF-PWP. After several owners (including duties as a forest fire bomber) and periods of
being stored, it went to Singapore in 1994 as 9Q-CPL. By 1996 it was registered in Liberia
as EL-WNH although actually physically resident in Lanseria, South Africa, where it is still used,
I believe, as a fire fighting training apparatus.