ZK-BFK de Havilland D.H.89A Dragon Rapide 4 ( c/n 6903)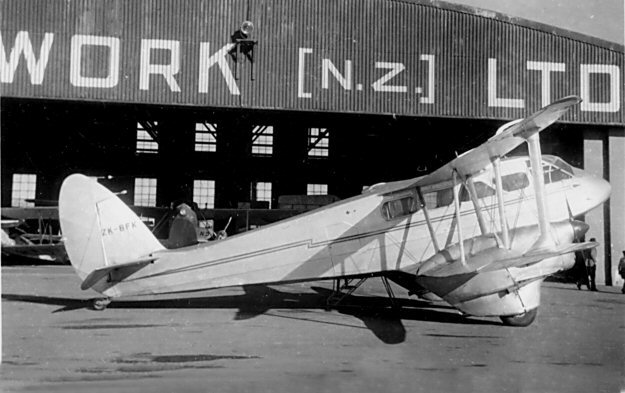 For some reason this aircraft was to have originally been ZK-BCP but this was not
taken up (and eventually allotted to another Rapide). It was re-registered ZK-BFK
instead. This aircraft was ex G-AHGF, which was actually the Mk. 4 prototype.
Most postwar Dragon Rapides were powered by surplus RAF Gipsy Queen 3 engines
rated at 200 hp each. However, several were later retrofitted with 200 hp Gipsy Queen
2s driving variable-pitch propellers. This installation made it possible to increase the
maximum takeoff weight to 6000 pounds, and gave a significant improvement in climb,
cruising, and single-engine performance. These machines were known as Mk. 4s, and
they could be identified by the presence of larger engine air intakes and variable-pitch
propeller spinners. G-AHGF had been so modified by Flightways Ltd. of Eastleigh.
It had been purchased by Ken Bloomfield in 1953 and flown to New Zealand in 1954,
operating from Te Karaka, mainly around the Hawkes Bay area. ZK-BFK was
exported to Australia in 1957, becoming VH-AWG and later VH-BIF. The aircraft
was withdrawn from service in 1965 due to airframe deterioration. It was then used for
fire practice at Archerfield until 1968.