ZK-BEU Douglas DC-3D (c/n 13099)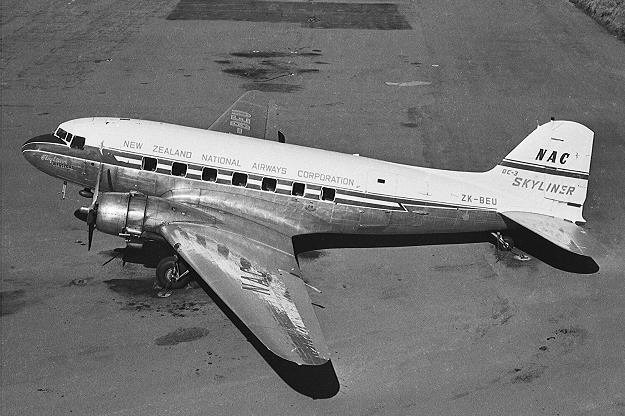 Here's another of David Molesworth's DC-3s taken from the knoll atop Wellington Airport
(a vantage point which has clearly long since disappeared). Unlike most of NZNAC's DC-3s
which were ex C-47Bs, this one was built as a C-47A-20-DK. It served in the RNZAF as
NZ3518. It was sold to NZNAC for 200 quid (believe it or not) in 1954. Ten years later
it was upgraded to 'Skyliner' status. David took this shot in 1967. It was sold to Mount Cook
and Southern Lakes Tourist Company in 1970. ZK-BEU retired from airline service on16
May 1978 and was New Zealand's last commercial passenger DC3. It went to Alpine Heli-
copters in 1979 for transporting live deer, by which time it had a total time of 31,034 hours on
the clock.. Sometime later it went to Zephyr Films. The engines and all serviceable equipment
was removed and the aircraft was floated across Lake Wakatipu painted as USAAF "I-7689"
for the filming of "Race to the Yankee Zephyr". Following completion of filming the aircraft was
beached and the remains were broken up.