ZK-BCT de Havilland D.H.98 Mosquito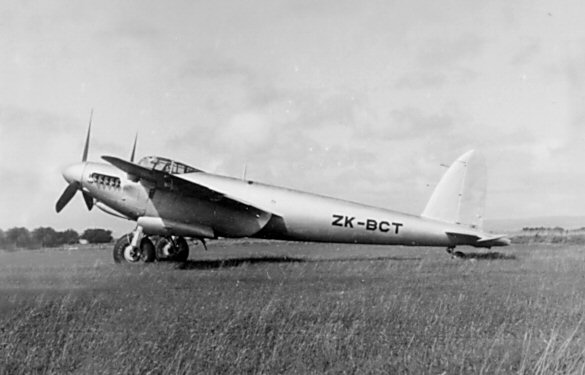 In July 1953 some six D.H. Mosquitos found their way onto the New Zealand Civil register.
They were ZK-BCT thru - BCY. ZK-BCT was a Hatfield-built machine, and was previously
PZ413, an FB. Mk VI with the RAF. It was transferred to the Royal New Zealand Air Force
in 1948 and given the serial number NZ2381. The Mosquitos appeared not to have been
used by the RNZAF but placed more or less straight into storage. ZK-BCT was one of those
declared surplus in 1953 and acquired by Aircraft Supplies Ltd of Palmerston North. Several
of the six were sold to buyers in the USA, but, in the event, ZK-BCT was not one of them and
was scrapped at Palmerston North. Some remnants remained in the area until the late 1970s.
My shot shows it at Palmerston North in 1953.