ZK-BBM de Havilland D.H.114 heron 1 (c/n 14011)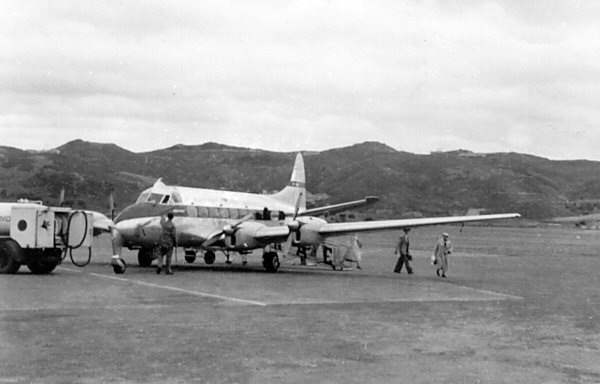 "Mind the wing, Madam, as you walk around........" On neither of these two images can
this aircraft be discerned as being, in fact, ZK-BBM. You'll just have to believe me. Both
at Rongotai, 1953. This was actually the second aircraft supplied to NZNAC. The airline
was the first in the world to introduce scheduled services with the Heron. ZK-BBM was sold
to Fiji Airways as VQ-FAY in 1960. It was later re-registered DQ-FAY (Fiji Airways
changing its name to Air Pacific at that time). In 1975 the aircraft was repatriated back to New
Zealand, having been purchased by Air North. It was to have become ZK-EEX but for some
reason was allowed to revert to ZK-BBM. Air North operated it until 1978. After languishing
in several dark corners for years the machine has now been acquired by "Flying Machines Down
Under", with a view to restoring it. Since it is the only one left in New Zealand, this would be a
worthwhile project.