ZK-AML Short S.45 Solent 4 (c/n SH.1556)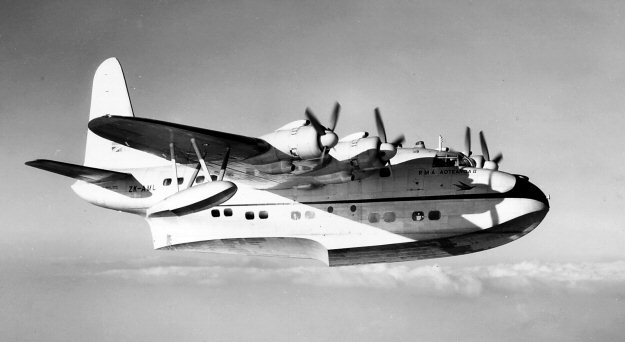 The Short Solent was the civil adaption of the more powerful Sunderland aircraft built for
the RAF as the Seaford. Four new machines were built for Tasman Empire Airways in 1949.
(Another, previously-owned Solent 3 also joined the fleet later). ZK-AML was the first and is
seen in the above photograph by the manufacturers, Short Brothers and Harland Ltd. It was
christened Aotearoa ll" by (the then) H.R.H. Princess Elizabeth on 26 May 1949. In addition to
being operated on the trans Tasman Sea routes, the Solents were also used on the glamorous
"Coral Route" from Auckland to Fiji, Samoa, the Cook Islands and Tahiti.
ZK-AML was sold to Aquila Airways back in the U.K. in 1954 and wound up derelict on a
beach in theTagus estuary near Lisbon, Portugal, being eventually sold for scrap in 1971.