ZK-AKS de Havilland D.H.89B Dragon Rapide (c/n 6647)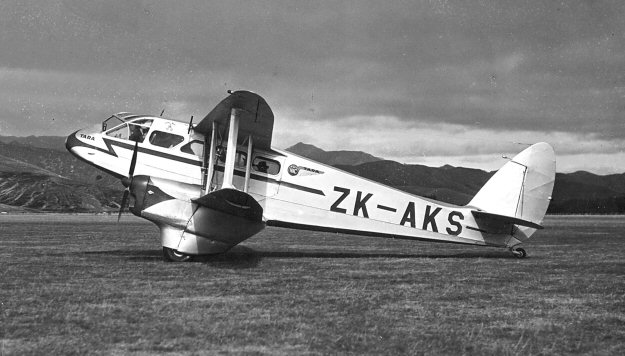 On 2 September 1946 Union Airways recommenced its Cook Strait services with three
ex-military de Havilland D.H.89Bs. In New Zealand service these were invariably referred
to by their military name of 'Dominie" which, strictly speaking is more correct, since only the
pre-war D.H.89s and D.H.89As were true Dragon Rapides. The first of these was ZK-AKS
(ex RAF HG648 and RNZAF NZ523) and was named "Teoteo". When New Zealand National
Airways Corporation took over Union Airways in 1947, these machines passed to the asset
register of the new corporation, and ZK-AKS was renamed 'Tara', as shown above. It was
sold to Southern Scenic Airways in 1956 and operated by their subsidiary West Coast Airways.
The aircraft crashed on Mount Soho, Nelson on 15 June 1965 when caught in white-out during
a sheep spotting flight. All five on board all escaped uninjured. It is reputed to be under
restoration at Mandeville.