ZK-AKM de Havilland D.H.94 Moth Minor (c/n 94012)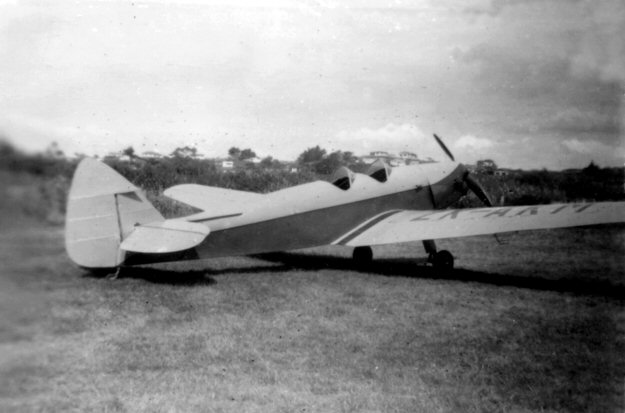 This Moth Minor was previously assigned the UK registration G-AFON. In 1939 it was shipped
to Australia, off-loaded, checked out, and then presumably stored (somewhere). In 1941 it was sent
on to New Zealand. Here it was registered ZK-AHK and operated by the New Plymouth Aero Club
until being impressed into the Royal New Zealand Air Force as NZ597. After the war it returned to
the New Plymouth Aero Club in whose service it is seen in the poor rendition above. (Even on the
original print there appears to be no visible registration either on the fuselage or the tail).After a series
of private owners and several periods on inacitivy over the past half century, it is now restored and
flying again in New Zealand. Below are two more images of -AKM. The upper one is by Ivan
Prince taken at Dairy Flat in 1966, whilst the lower is a contemporary shot from Peter Prince's
collection (Ivan's brother) showing it as NZ597 and just plain "AKM". (See my note on the top
of the ZK- index page for comments on this form of registration).