ZK-AFB de Havilland D.H.90 Dragonfly (c/n 7560)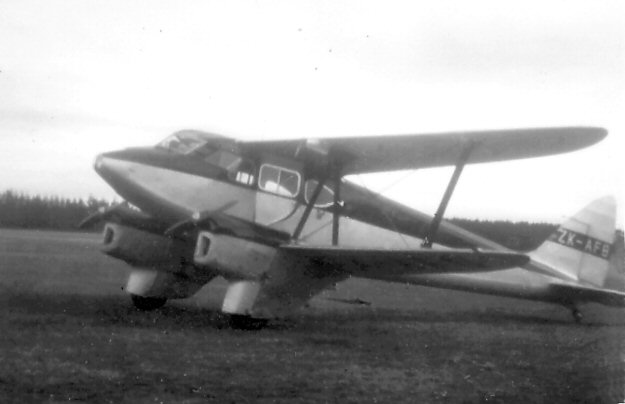 D.H.90s are rare enough that I will include this dull day image taken with a Box Brownie circa 1952
(late enough for the tail rego to be in vogue). Built in 1937, ZK-AFB was first registered to Air Travel
(NZ) Ltd, Hokitika, New Zealand. In March 1952 it was registered to the Canterbury Aero Club,
Christchurch. Colors were dark green and silver. Next, the Wairarapa & Ruahine Aero Club operated
it on behalf of owner Aircraft Engineering of NZ Ltd. On 25th June 1960, Arthur Bradshaw purchased
ZK-AFB which he said, "had been parked in a hanger in Palmerston North for several years." Bradshaw
was granted permission to ferry AFB to his home in Nelson where he "set to work on what proved to be
quite a large job – the renewal of AFB's Certificate of Airworthiness. It was 7 October 1960 before it was
ready for me to test fly." Bradshaw continues "The Certificate of Airworthiness of the [Nelson Aero]
Club's Dragon [ZK-AXI] was due to expire at the end of October 1960, so I lent them the Dragonfly
at a nominal hourly rate to tide them over. The Club flew it a little more than 100 hours while they had
it on loan from me." Bradshaw named AFB "Kiwi Rover." This was a theme that he carried on from his
Proctor, ZK-AVW "Kiwi Wanderer." ZK-AFB was sold to Air Charter Ltd and disappeaed on a flight
from Christchurch to Milford Sound in 1962. No trace of it, its pilot, Captain Brian Chadwick or the four
passengers has ever been found. Arthur Bradshaw tells the story thus: "On 5th May 1961, I sold the
Dragonfly to Brian Chadwick who was operating charter flights from Christchurch. Unfortunately, on
12 February 1962, Brian and his four passengers disappeared without trace when on a flight from
Christchurch to Milford Sound. I have flown in the Mount Cook area quite a lot, and knowing the
aircraft and the weather which prevailed that day, I think that he struck the eastern face of the Southern
Alps, and that one day some metal remains will emerge from a glacier somewhere. Being of wooden
construction, a fire would have been inevitable." Chadwick's final resting place remains a mystery to this
day. His disappeareance was a sad ending to the life of a colorful character in New Zealand's aviation
history.