VH-USD de Havilland D.H.86A (c/n 2308)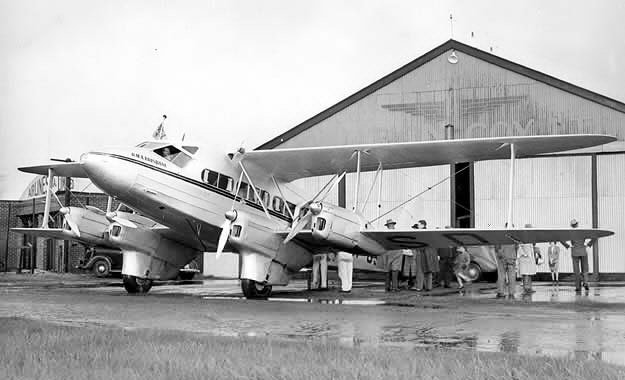 Imported in January 1935 for Qantas Empire Airways, VH-USD was named

"R.M.A. Brisbane"


It was sold in July of 1938 to MacRobertson Miller Aviation, of Perth, WA, where the above
photograph, from the Geoff Goodall collection, was taken. The sorry accident depicted below
occurred at Fitzroy Crossing in November 1938. VH-USD lost an engine on take off and ground
looped. It was repaired, in situ, by a couple of stalwart engineers/fitters laboring under 40-45C
heat and high humidity for several weeks. Scarcely two months later it suffered another ground loop,
this time at Derby, WA. (Some Dragonflys had a similar problem). In February 1939 it was sold to
Tata Airways in India becoming VT-AKZ. The official; line was that it "did not fit MMA's route
structure". Yeah, right. Fred Niven in his history of it reports that it continued to ground loop even
after being impressed into RAF service during the war, and fitted with bomb racks, wherein it became
AX800. Despite this it went back onto the Indian civil register in 1943 and was ultimately damaged
beyond repair in an accident at Ahmadabad in November 1944. The historic shot at the foot of the
page (via the Civil Aviation Historic Society) shows it, along with VH-UUA, on the hardstand in an
aerial view of Archerfield, Brisbane circa 1935.