VH-URJ Beardmore WB.XXIV Wee Bee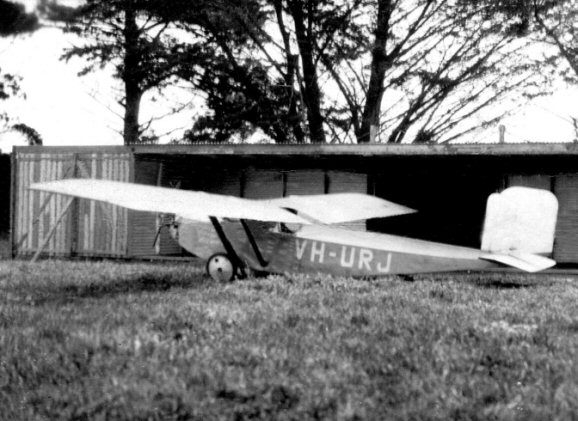 Formerly G-EBJJ, VH-URJ was imported into Australia in 1933. The Wee Bee was designed
by W. S. Shackleton and built in Scotland at the Dalmuir works of William Beardmore & Co.Ltd.
It was the company's winning entrant in the 1924 Lympne light aeroplane trials. The diminutive craft
was powered by a Bristol Cherub 32 hp engine. Several were built, although VH-URJ is the
only one to have made it to Australia. The photo above is from my own collection, while immed-
iately below is an image from the Len Dobbin collection, courtesy of the Civil Aviation Historical
Society. In 2011 I was contacted by Aaron Betts whose grandfather, Fred Betts, acquired the
Wee Bee in October 1938. Fred hit a rock upon landing at Pomberneit, Victoria (where he was
the proprietor of the local service station) and broke the Wee Bee in half. At the foot of the page
are three shots from Aaron's collection, the latter two showing the wreckage. The tail of the machine
had the inscription:
"Wee Bee I"
Out-Right Winner
£ 4000
British Light Plane
Competition
Built by
Beardmore Aviation
England

Correspondent Charles Mac Kay indicates that it appears to have existed after the war up until about
1950, and was owned by Vincent Boyes. It appears not to have had a current CofA at that time, since
DCA records reflect that it was stricken from the register in August 1940.