VH-UPD de Havilland D.H. 60M Moth (c/n 1558)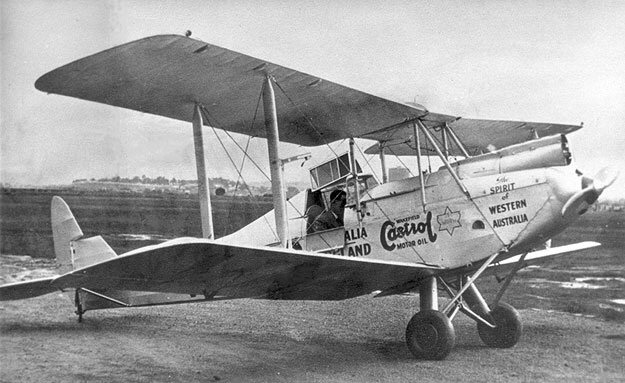 Thanks to Geoff Goodall for this nice photograph. It depicts a Moth with a canopy. This
aircraft, named 'Spirit of Western Australia' was flown by its owner, Mr. J. Woods from
Australia to England in July 1933. Fred Niven, the noted historian for all connections
(however slim) to ANA and Ansett Airways writes:-
"One report suggests that this aircraft was ex-G-ABOE.

However, the MSN & other history don't match.
Purchased new by J.J. Thorpe, Armadale, WA 25/9/30, via West Australian Airways & arrived Fremantle 2/10/30 on the
S.S. 'Moreton Bay'.

Assembled at Maylands, with a Gipsy

II

engine.

Registered VH-UPD to J.J. Thorpe 1/10/30 (CoR 401).
Test-flown by Norman Brearley 14/10/30.

It was used by J.J. Thorpe for extensive tours of Australia 6/31-6/32.
Sold to Joe Thorn 15/5/33, who arranged to have it registered 23/6/33, to Jimmy Woods, a W.A.A. pilot, who planned to
attempt a new record for an Australia-U.K. flight.

Woods departed Wyndham 7/7/33 & flew Broome-UK 7/7/33-17/8/33
'Spirit of Western Australia'.

On 27/7/33, the undercarriage collapsed at Bandar Abbas, Persia (Iran).
After many accidents & mechanical failures, it eventually arrived Croydon, UK 17/8/33 (18/8/33 Australian Time);
having taken 42 days & failing to lower the record time.

Woods failed to sell it in the U.K. & it was shipped back to Australia,
where it remained unused & was struck-off-Register22/6/34.

It was sold to George W. Lewis, c/- Australian Aero Club, (WA Section), Perth, 4/8/34, for use by Golden Airways.
Sold to Australian National Airways Pty. Ltd. 8/2/37 & registered VH-UPD to Australian National Airways Pty. Ltd. the
same date, for use in the A.N.A. Flying School. A Gipsy I engine was installed, replacing its Gipsy II. On 19/11/38,
it struck D.H.60G VH-UUC, whilst stationary, at an unknown location. On 17/12/38, it made a forced-landing outside the
Essendon Airport boundary fence after the front-seat pupil accidentally turned off the petrol cock (pilot A. Dayble).
On 29/1/39, it was started, without the wheels being chocked, swung into the boundary fence & was extensively damaged,
at Ballarat (pilot T.C. Miles). IMP by RAAF, as A7-104 & Struck-Off-Register 22/7/40 (an alternative source suggests 2/6/40).
Received by 3.EFTS, Essendon, 22/7/40 (2/6/40?). To 1.EFTS. It was hit by D.H.82 A17-236 2/41.
It struck a fence & was extensively damaged 5/41. Converted to spares 5/7/41."



The poor image below was extracted from "The Queenslander" for 9 June 1932 and depicts -UPD
at Normanton. It was being flown by WA bus operator J.J. Thorpe on an around Australia flight.



Photo # 3 is from Ellis Trautman, of WA who indicates it was taken in or around Collie, WA. Looks
like a paddock. Possibly a forced landing



Finally, at the foot of the page is an image froim the Larence Roche collection showing -UPD when
iit was part of the ANA Flying School . The photo was taken at Belmont Common, circa 1937 with
Jack Roche and Percy Pratt in attendance.