VH-UNV Saro A.17 Cutty Sark (c/n A17/2)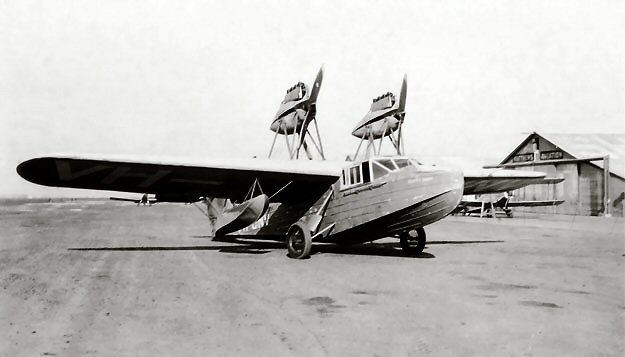 The two historic shots on this page are via the Civil Aviation Historical Society (based at Essendon
Airport, Melbourne). The upper one, from the Len Dobbins collection, shows the aircraft outside
the Matthews Aviation Pty Ltd hangar at Essendon in the early 1930s. The Cutty Sark had been
imported for that company in 1930 and was used on Bass Strait services to Tasmania and King
Island. A freak accident on 8 November 1931 saw it driven ashore by wind at St. Kilda pier,
wherein a Mr. E Lloyd, a passenger who attempted to assist, was killed by a propeller. In 1934
VH-UNV was sold to Pioneer Air Services. The lower shot, from the Charles Ohlson collection
illustrates the machine circa 1935 . In 1937 it was purchased by Keith Caldwell who flew joy
flights up and down the coast in the late 1930s. Incidentally, Keith's first aircraft was the DH53
VH-UAC. Shortly after acquiring the Cutty Sark, Caldwell sold it to Qantas Empire Airways and
was employed teaching QEA pilots on flying boat handling. Unfortunately the aircraft was damaged
when a trainee pilot landed on the Brisbane River at Pinkenba, Queensland on 5 April 1938 with the
wheeled undercarriage extended. Although the damage was slight the aircraft was written off when
it broke into three parts due to a very bad salvage job. Keith meanwhile went on to fly for QEA
on their Short Empire flying boats, and during WWII flew with the RAAF.