VH-ULU Klemm L 25-1 (c/n 131)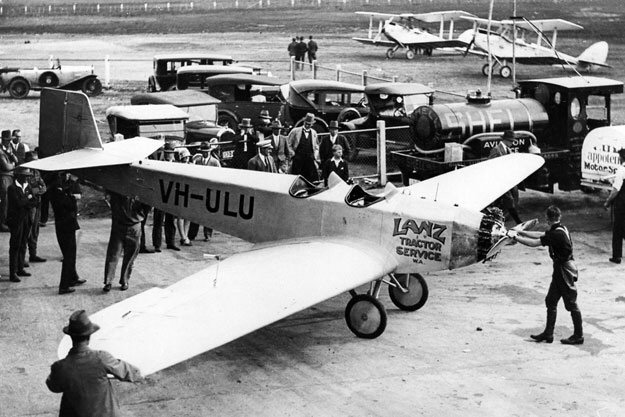 This diminutive little two seater was imported in 1929 and registered to H.C. Ittershagen of West
Subiaco, WA. He was the local distributor for Lanz tractors, and told local newspapers at the
time that he would train eight of his tractor experts to fly the Klemm in order to provide service to
his far flung farmer customers throughout West Australia. There was a delay in getting the aircraft
flying because the CAB did not recognize its German CofA . In the event it was assembled at his
private airfield at West Subiaco and test flown on 18 August 1929 by his company pilot Harry
"Cannonball" Baker. The above photo is from the Civil Aviation Historical Society collection
and probably was taken circa 1929 just after the aircraft had arrived. Baker flew -ULU to Sydney
for the October 1929 East-West Air Race from Sydney to Perth and on arrival back in Perth report-
ed no mechanical failures of any kind. In January 1930 Ittershagen had floats fitted to ULU, and he
formed a new company, Aerial Commerce Co, whose letterhead boasted a "Klemm Seaplane Station,
Nedlands" on the Swan River near Perth city. A report from the Perth Western Mail for January
1930 indicates that Baker made the flight from Nedlands Bay to Rottnest in 12 minutes and that a
regular service was being proposed. The photo at the foot of the page was from the 20 March 1930
issue of the same newspaper and shows children congregating around the seaplane when it visited
Mandurah earlier in that month. In the event, the floats were removed from the Klemm several
months later, and it was used for joyriding at both Perth and Rottnest Island until 1933 when it retired
to Ittershagen's hangar at West Subiaco airfield and remained there with Klemm -UNG and Spartan
-UMQ until 1940. That year -ULU was purchased by a local, and DCA investigations in October
1941 revealed that he had flown over 200 hours of local flying from the West Subiaco aerodrome
with no pilot's licence and that he confessed complete ignorance of all aviation regulations. Not only
that, but for fuel, he and his friends had stockpiled 120 gallons of car fuel in contravention of the war-
time fuel rationing regulations! The ultimate fate of the little Klemm is unclear, but a wheel identified
as being from -ULU turned up in a Perth tip in 1958. The image immediately below was taken at
Merredin, WA while the no 3 photo shows it as a seaplane flying from the Swan River at Perth in Jan
1930. Both these images are from the Geoff Goodall collection.