VH-UKV de Havilland DH60G Gipsy Moth (c/n 1066)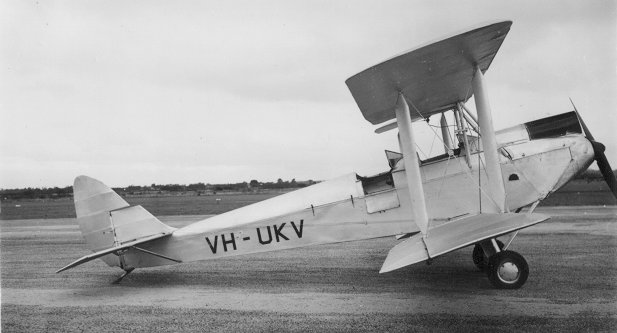 Based at Moorabbin Airport, Melbourne, in the 1950's, this Moth was seldom seen outside
its hanger. Here it is, however, on a dull day in 1955. Barrie Colledge's shot (below) was
taken two years later, and the shows the machine jazzed up a bit from its plain silver with black
rego. This aeroplane was presented to the Moorabbin Air Museum where it is now on display
in an attractive red and silver color scheme, and named "Diana". Ern Mainka's nice shot (# 3)
shows it in this final livery. This image was taken at an air show at Berwick in 1972 where the
Moth had been transported as part of a static exhibit. VH-UKV was owned by Barbara
Hitchins of Stanmore, NSW from October 1937 to October 1939 (when it went to the Aero
Club of Broken Hill) and she did not appear to be particularly gentle with it. In addition to
overturning in a forced landing en route from Sydney to New Guinea on 22 January 1938, it
also came to grief in June of 1939 when it again overturned, this time on the Bonnie Doon golf
links in Sydney. Barbara and her passenger Miss G. Elwyn Pryce were unharmed, but a report
and photo (see foot of page) which appeared in the Brisbane Courier Mail for 27 June 1939
stated that a golfing twosome complained 'You spoiled our game!'.