VH-UGK Alexander Eaglerock A-2 (c/n 298)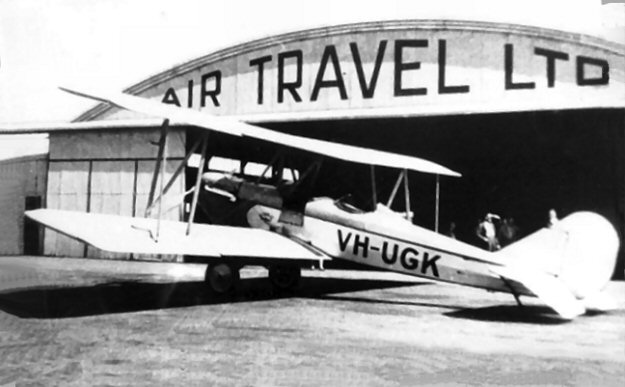 Here are three rare shots of an Eaglerock. Above, from the Civil Aviation Historical Society (CAHS)
archives, as VH-UGK, below, from the E.A. Crome collection, courtesy of the National Library of
Australia, as G-AUGK, and, at the foot of the page, a close up from the E.W. Searle collection, also
via the NLA (with Air Travel, Ltd - Mascot titling). The Alexander Aircraft Co of Colorado Springs,
Colorado (some 60 miles south of Denver) was issued a type certificate for the A-2 model in August
of 1928 and many hundreds of these 3-seat (two in the front) biplanes were built. The standard color
scheme for the A-2 was silver and blue. It was very popular among flying schools. Geoff Goodall
provides the following information regarding VH-UGK:
"One of the few American light aircraft imported into Australia before the ban on their importation
in preference to British aeroplanes. Imported by Air Travel Ltd of Mascot, Sydney, in 1928 it was
powered by a Curtiss OX-5 engine and was used extensively for joyriding at Mascot and NSW
country towns. It met its end in an accident whilst giving joyrides at Greenwell Point, NSW, on
7 October 1935."