VH-UBY Sopwith Gnu (c/n Original W/O 2976/6)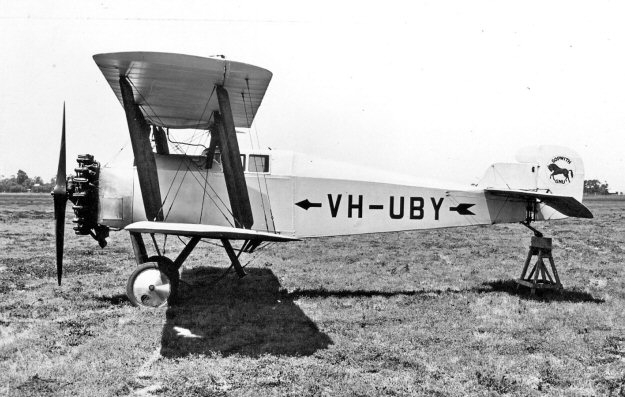 Formerly G-EAIL, VH-UBY was actually the 16th aircraft on the VH- civil register, and was one


of two Gnus (-UBX was the other [ex G-EAHQ]) which had originally been imported by Larkin
Aircraft Supply Co for their

Australian Aerial Services Limited mail run from Adelaide to Sydney.
The Gnus probably flew a limited portion of that route . It was later sold to K.R.M. Farmer who
owned it for many years. The above photo, from the Frank Walters collection (via Geoff Goodall)
was taken at its base at Coode Island circa 1929. The nice flying shot below is via the archives of
the Civil Aviation Historical Society in Melbourne. Just love the rego between the arrow. Proof
that this ancient bird had a long life can be seen in photo no 3 below, taken at Essendon in 1938 by
the late Daryl Mackenne with the DC-2 VH-UYC in the background. My own image, at the foot
of the page was probably taken around the same time. Note tail of a RVAC D.H.60 Moth on
the right. VH-UBY's CofA lapsed in October 1941 and it was stored at Coode Island during the
war. Farmer advised DCA in 1945 that the engine had been sold to Ansett and wings and fuselage
to Mr. Tay of Preston. Notwithstanding that, it is listed in the register as having been destroyed
by a windstorm at Essendon in April 1946.