G-AUIX Ryan B.1 Brougham (c/n 148)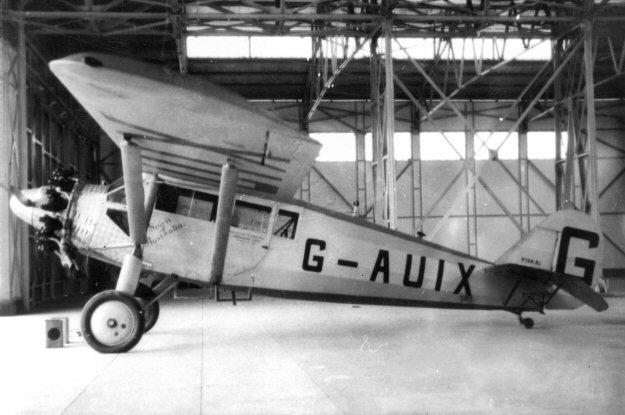 The rare image above comes from the John Hopton collection and depicts G-AUIX at RAAF
Base Richmond near Sydney in October 1928 on the eve of its departure on a record attempt to
fly to England. It was named

'Spirit of Australia'

by its owner T.E. Rofe of Sydney who had just
imported it from US that same month. Clearly it was fashionable in those days to name Ryan B.1s
'Spirit of something-or-other";. Anyway, the aircraft departed Richmond on 30 October and
left Wyndham on 5 November. The crew consisted of air force pilots S. J. Moir and H.C. Owen
accompanied by Australian adventurer and photographer Frank Hurley but the record attempt
ended with a crash on 26 November at Athens, Greece. Moir and Owen returned from England
to Australia in March the following year in the big Vickers Vellore G-EBYX and after being dam-
aged in a forced landing in North Africa they finally reached the Australian coastline on 18 May
1929 only to have engine trouble approaching Darwin, resulting in damage in a forced landing at
the Cape Don Lighthouse on Melville Island. The Ryan was officially stricken from the Australian
register on December 31, 1928. I suspect the photo from my own collection (below) was also
taken at Richmond, and would appear to feature Moir and Owen in addition to a well dressed
mechanic and a boffin-looking type.
At the foot of the page is an image gleaned from the Sydney Morning Herald for 16 October 1928
at the christening ceremony wherein the Ryan was named "Spririt of Australia" on 15 October of
that year by Mr. T.E. Rofe.