G-AUEA Airco DH6 (c/n 2)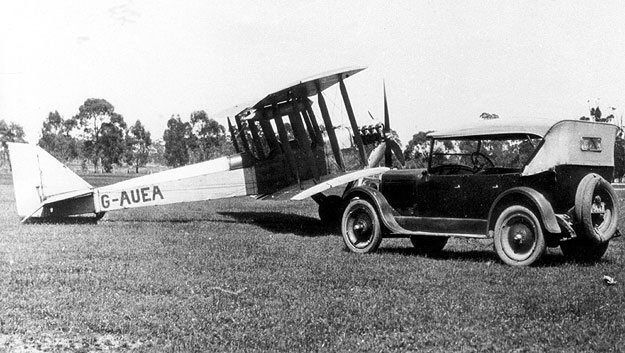 This shot is from the Civil Aviation Historical Society (CAHS) collection. This ancient machine
was registered at the time to the Pratt Brother's Geelong Air Service. Research provided by
Kevin OReilly of Nhill, Victoria indicates that the automobile was Charlie Pratt's 1924 Oldsmobile
Tourer. Kevin, who provided the shot below, captioned as having been taken at Carisbrook
Camp, near Maryborough in 1926, suggests that the DH6 is probably also G-AUEA,.
Details of G-AUEA are as follows:

Ex-RAF (identity unknown). First reg in Australia on 5 April 1923 to Geelong Air Service, used for
joyrides by the Pratt brothers. Powered by 90hp RAF 1A engine. Sold to K R Brown, Bendigo,
3 April 1929. 11 June 1930 sold to T B Sissons, Bendigo (reg changed Aug 1930). Reg changed
to VH-UEA by 31 Aug 30?? Crashed at Mooroopna, Vic, 25 Oct 30 and SOR 2 Dec.