VH-UZJ Douglas DC-3-232 (c/n 2002)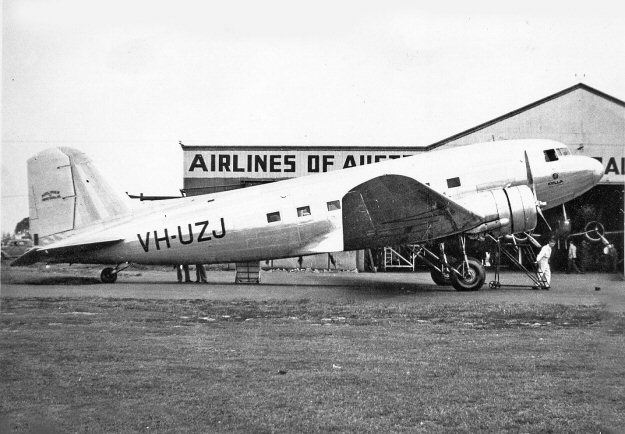 VH-UZJ was a pre-War DC-3 delivered to Airlines of Australia Ltd. in November, 1937. It was
named

"Kyilla"

. It was leased, temporarily, to the RAAF in 1939 (upon the outbreak of war) as
A30-1, but was soon relinquished back to the civil airline market in 1940. ANA took it over in 1943.
On the night of December 29th, 1948 on a positioning flight from Launceston to Melbourne (i.e. there
were no passengers on board) the weather at Essendon was experiencing severe thunderstorms and
the flight was diverted to Mangalore, an airport some miles north of the original destination. The pilot
touched down short of the runway at Mangalore with the result that VH-UZJ was broken in half just
aft of the wing root as seen in the image at the foot of the page from the Bruce Robinson collection.
Frank Walter's shot above, taken at Mascot in 1938 is far better than my own, immediately below
at Essendon in the same era. Below that is an evocative image from Bruce's grandfather's album
showing -UZJ over Sydney Heads, again, circa 1938. Incidentally, the crash of this DC-3 was
the was the fourth major accident for ANA in almost as many months. Fortunately the airline was
able to pull itself out of this less than spectacular period in its history, and went on to become a large
national carrier.