VH-UYZ Aeronca 100 (c/n AB102)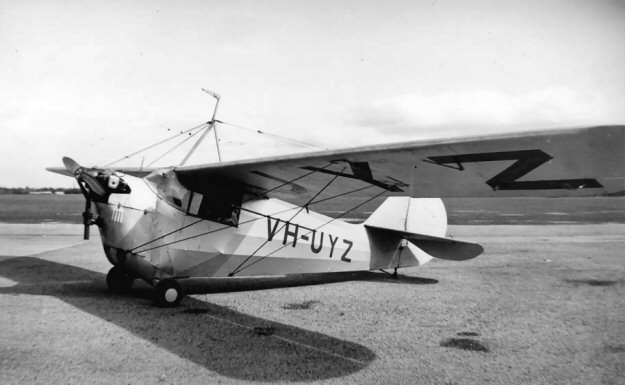 Another of the aircraft imported in 1937 for W.W. Pike's newly formed Light Aeroplanes Pty Ltd
of Brisbane. (Above image courtesy of the John Oxley Library, State Library of Queensland). The
concern did not last long and by early 1938 had folded. The Aeronca 100 was a UK-built version
of the C-3 with fabric-covered ailerons (instead of metal), and was built in England under license by
Light Aircraft Ltd. (operating as Aeronautical Corporation of Great Britain Ltd.). No connection to
the Light Aeroplanes Pty Ltd quoted above. 24 Aeronca 100s were manufactured before production
was halted. Following a series of owners in Queensland in the late 1930s, VH-UYZ 's CofA lapsed
early in WW II (August 1940), was not renewed, and the aircraft was stricken from the register.
I wonder what happened to it?