VH-UYQ de Havilland D.H.82A Tiger Moth (c/n 3623)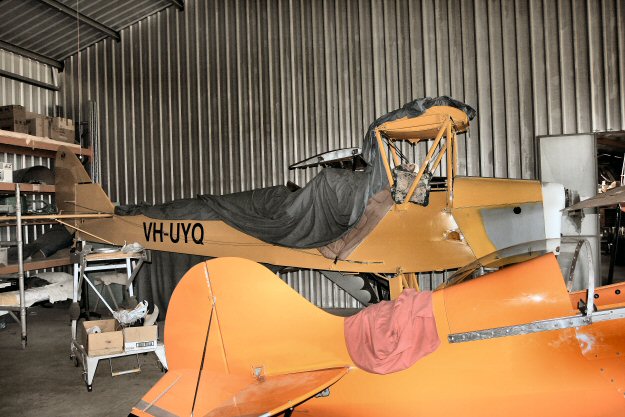 Oddly, although this pre-war Tiger was imported in November 1937 for the Newcastle Aero Club
and flew with them until 1940, no photographs of it in its original form seem to exist! Admittedly
it was out of action for 8 months in 1939 following a freak crash at Orange, NSW on 30 January
of that year. The Sydney Morning Herald of 1 February 1939 published the image below which,
unfortunately, crops the rego. The caption indicated that the aircraft was taking part in an air show
at Orange and was about to give a 'bomb dropping' demonstration when the fake 'bomb' prematurely
exploded in the cockpit. The pilot, Mr. E. Buck, CFI of the RNAC, lost control and crashed,
narrowly missing the crowd. Sadly, Mr. Buck died as a result of his injuries. The Tiger, however,
was eventually rebuilt, and went back to fly again with the RNAC until it was impressed into service
with the RAAF on 20 July 1940 as A17-676. It survived the war, although was not civilianized again
until November of 1955 and then as VH-CCE. Just why it didn't resume its VH-UYQ identity is not
known. Anyway, it was eventually withdrawn from use in May of 1975 and has languished in various
locales since then. At the moment its remains are at Luskintyre, NSW, home of so many Tiger re-
builds. Hopefully it will re-emerge one day as -UYQ again. However, Ian McDonell, who took the
above shot there as recently as March 2010 advises that the prime mover in its restoration has, unfort-
unately been taken ill, and the project is on indefinite hold.