VH-UYN Ryan ST-A (c/n 147)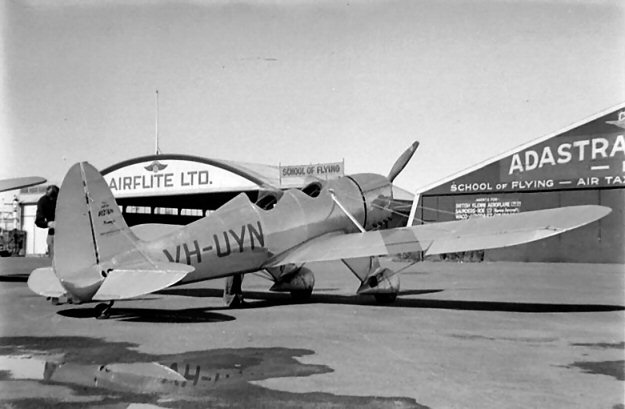 In 1934 Claude T. Ryan evolved a design which would wind up eventually to become a much
sought after classic aircraft. This was the Ryan S-T. ("Sport Trainer"). The introduction of the
125 hp Menasco C4 Pirate engine gave rise to the Model ST-A, the first of which to be imported
into Australia (in 1937) was VH-UYN, seen above at Mascot soon after it came onto the register.
This nice image comes from the Graeme Parsons collection. The aircraft at the time was owned
by Airflight, Ltd. VH-UYN unfortunately crashed at Belmont, Victoria in 1946, and was struck
off the register. The shot below is from my own collection, while the image at the bottom of the
page is from the Geoff Goodall collection and shows the Ryan at Mascot, circa 1937 with the for-
ward cockpit faired over, and 'Airflite Pty Ltd School of Flying' painted on the cowling. This shot
was taken by John T. Harrison who was chosen by the pre-war RAAF as an official photographer.
His air-to-air shots of RAAF aircraft usually taken against imposing cloud backgrounds, are a won-
derful record of that era John maintained a personal log book of all his air to air sorties, civil and
military.