VH-UYH Fairchild 24-G (c/n 2965)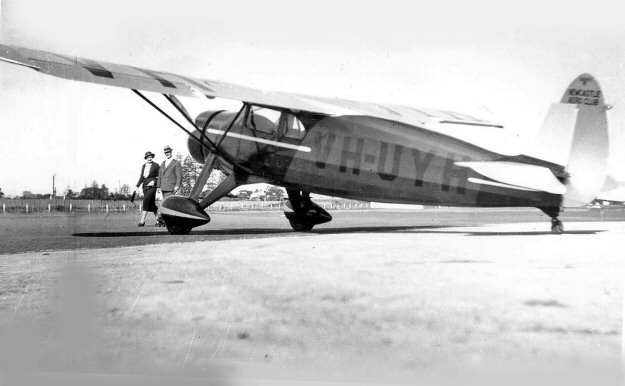 All new for 1937 was the Warner Super Scarab powered version of the popular Fairchild 24-H
dubbed the 24-G. Unlike its Ranger powered sister however, the 24-G was the first of the
Fairchild high wing monoplanes to carry four people. In order to achieve this standard of utility
many of the niceties normally associated with 24s had to be eliminated, such as wheel spats, flaps
and roll down windows. This 24G was imported new (c/n 2965 had been assigned NC16896,
but came straight to Australia without bearing its US rego) in August 1937 for the Newcastle Aero
Club. During WW II it was impressed into RAAF service as A36-3 and civilianized again in
March 1945 to a private owner in Maryborough, Queensland. It flew in outback Queensland
until retired at Rockhampton in 1962 . Its fuselage was stored in one of the original old hangars
at Rockhampton airport well into the 1960s. The above photo, from the Frank Walters collection
shows it at Broadmeadow Aerodrome, Newcastle, circa 1937. The post-war shot below is via
the Geoff Goodall collection.