VH-UYA Junkers Ju86 (c/n 86/0952)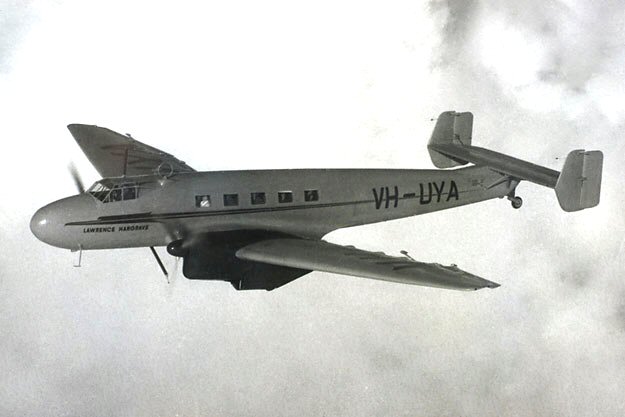 This image above is from the Len Dobbin collection, via the Civil Aviation Historical Society
archives, whilst the one at the foot of the page is via the National Library of Australia showing
the Junkers probably at Coffs Harbour, NSW, whilst awaiting a replacement engine. It was
dogged by mechanical problems from the outset, and its short career in Australia was less than
spectacular. The history of VH-UYA is well documented by Australian airline historian Fred
Niven and is given, in part, as follows:


This aircraft was completed at Dessau in January 1937, as a Ju.86B-0. Originally D-AGEY

(Junkerswerke). It was named
'Lawrence Hargrave' at Junkerswerke, Dessau and was painted a light khaki color overall, with black registration, fuselage-stripe
and engine nacelles. It was acquired by Dr. E.F.R. Beinssen, the German Trade Commissioner in Sydney, for £26000, in a
barter deal,

for a consignment of wool, for resale. An Australian registration was applied for in late January 1937

as the aircraft
was being imported "for re-sale for commercial purposes". Later paperwork from Dessau described it as being a "Ju86B-
Australien". It departed Dessau 20 Feb 1937, as D-AGEY, flying via Europe & Asia; arriving Darwin, from Timor, 15 March
1937, with a total flying time of 69 hours.

The German registration and swastika were removed whilst the

aircraft was at Darwin.
It had provisionally been registered VH-UYA on 18 Mar 1937, to Dr. E.F. Beinssen, to cover the flight from Darwin to Melbourne.
It flew Darwin-Charleville-Brisbane-Essendon on 26 April 1937, as VH-UYA, using its provisional CoA. After inspection at Mel-
bourne, it was formally registered VH-UYA to E.F. Beinssen of Sydney as a 10 passenger machine. It was chartered by Airlines
of

Australia, for evaluation purposes, from 14 May 1937. It ferried Melbourne-Cootamundra-Sydney

on that same day and
departed Sydney at 0805 on 17 May 1937 on its first Airlines of Australia test flight Sydney-Lismore-Brisbane, with 4 crew (Capts
J. Mclaughlin (Airlines of Australia) and J. Kerr (on loan from the Civil Aviation Dept.) and Engineers H. Wolfermann and W.
Gerisch) plus six passengers. It arrived Brisbane at 1100, after a flying time of 2 hours 40 mins. In the afternoon of 17 May
1937, it

continued on to Townsville, with 10 passengers. On the return Brisbane-Sydney flight, during the

afternoon of 20 May
1937 (with 5 passengers and mail), it was forced-landed at Coffs Harbour, NSW, after the starboard engine failed, 1.5km from
the airport (Captains K. Virtue & J. McLaughlin; both of Airlines of Australia, plus the 2 German engineers). Engineer Wolfer-
mann indicated that the

engine was badly damaged and a spare had to be sent from Melbourne. Airlines of Australia used a




Stinson A to ferry the crew and passengers from Lismore to Sydney. VH-UYA was then ferried to

Fishermans Bend, Melbourne
by Keith Virtue. Despite being praised by crew & passengers, the engines' unreliability ruined its chances of being purchased.
The aircraft was dismantled in Melbourne and departed for Germany by sea, from Melbourne, 25 Aug 1937, on the S.S. 'Lippe'.
It was struck

off the register on 26 Sept 1937. After its return to the Junkers works in Germany, it was reregistered

D-AGEY,
still with the name 'Lawrence Hargrave', and its tails painted red with swastikas added again.It may later have gone to Lufthansa,
or possibly to the South African Air Force.