VH-UXT de Havilland D.H.89A Dragon Rapide (c/n 6346)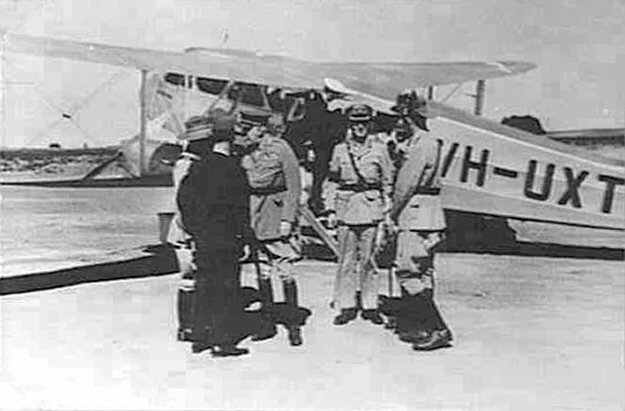 Oddly, pictures of this Rapide have proven difficult to glean. Strange, since the aircraft was registered
in May 1937 and worked for Australian National Airways Ltd as "Mundoora" until it was impressed
into RAAF service as A33-4 in July 1940. (Possibly because for most of 1938 it was out of service
following a crash at Kingscote on Kangaroo Island, SA on 5 February 1938, until rebuilt later in that
year). The lo-res image above is via the State Library of SA and shows -UXT with some officers and
diggers at Mt. Gambier Airport in 1938. Following its impressment in July 1940 it was demobbed in
April 1942 for Airlines of Australia, but transferred back to ANA after three months. The images below
are from the John M. Smith collection via the South Australian Aviation Museum and depict (top) the
Rapide at Broken Hill and (lower) following one of two crashes. These were either the one mentioned
above on Kangaroo Island or the one where it was written off when it overran the strip at Wynyard,
Tasmania on 18 August 1943 and wound up in a ditch. Geoff Goodall, who supplied these images is
inclined to believe this photo is that of the former crash, since in it, the aircraft appears to be rebuildable.