VH-UXN Miles M4A Merlin (c/n 272)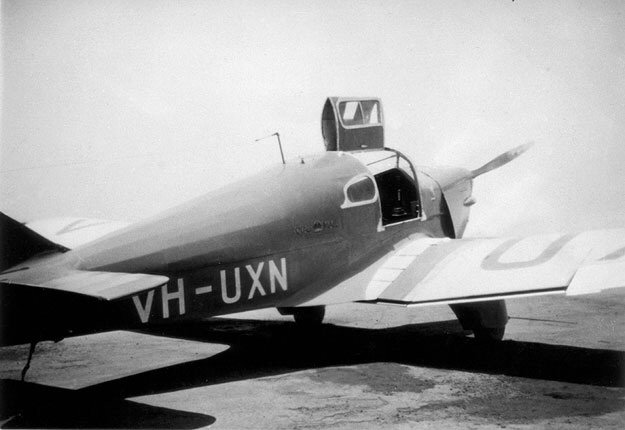 Only four Miles Merlins were built. One stayed at home, two went to India plus this one which
was delivered to Roberts Airways in Melbourne on 22 June 1936 to operate services within
and beyond, the State of Victoria. Three months later the name of the operation was changed
to the more grandiose (and descriptive) Victorian and Interstate Airways Ltd. The little craft was,
in fact, authorized to carry mail and a 'Royal Mail' emblem can faintly be seen aft of the cabin.
In 1940 it was impressed into the RAAF as A37-2, but was cannibalized for spare parts in 1941.
All Miles low wing monoplanes had the same service number assignment of A37 irrespective of
what particular model they were. The Merlin was evidently similar enough to the Hawks and
Falcons already interred in the military to be able to use bits and pieces of it. The above image
is from the Civil Aviation Historical Society (CAHS) Collection, whilst the lower interesting shot
from Maurice Austin shows the aircraft in flight with VH-UXN on the fuselage and, oddly, -UBN
on the upper starboard mainplane! Finally, the photo at the foot of this entry, from the Geoff
Goodall collection shows -UXN as A37-2 at RAAF Pearce, WA in August 1941 in company
with Tugan Gannet A14-6 "Z" from the RAAF Survey Flight. This latter machine was lost when
it crashed in 1942 in East Arnhem Land near Gove whilst serving as an air ambulance.