VH-UXI Lockheed 10A Electra (c/n 1105)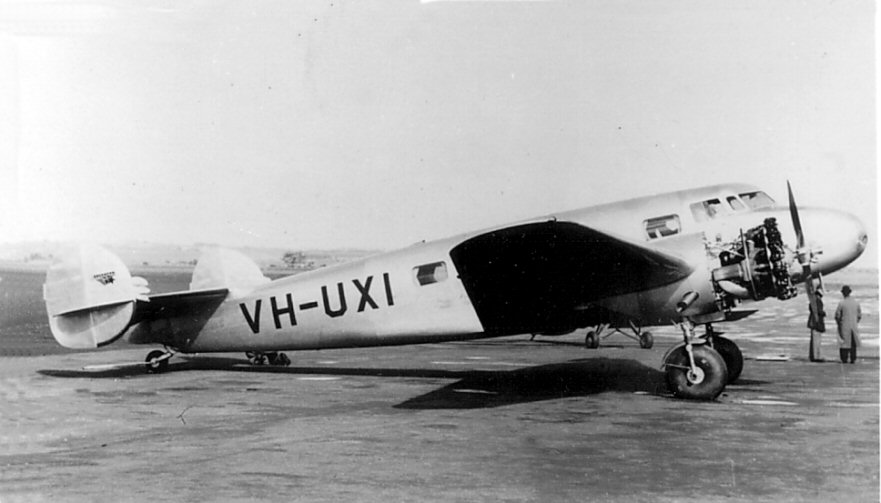 VH-UXI was ordered by Guinea Airways in 1937 who named it "Moresby" . The GAL logo
and badge can be seen in the images below. On 18 December 1939 the aircraft departed
Darwin for Adelaide at 0535 hrs . Twenty miles out of Darwin the starboard engine failed and
the aircraft turned back. With the starboard engine on fire and unable to maintain height, Capt
Nobby Buckley and First Officer U.G. Edgerton set the aircraft down in the dark in trees adjacent
to the railway line about a mile south of Darwin. The ten Army passengers and their baggage were
miraculously evacuated from the aircraft before the machine was destroyed by fire. I am indebted
to David Henderson for unearthing an image of the wreck which appears at the foot of the page.
This shows members of 12 Sqn (of which David was Executive Officer in 1989) inspecting the
wreckage on the day of the crash. The photo was originally taken by Ted Roberts. Just how
twelve persons walked away from that belies belief!

For a more complete history of this aircraft, and indeed, every Lockheed type which ever flew in
Australia, go to Ron Cuskelly's fabulous site at:
http://www.adastron.com/lockheed/electra/vh-uxi.htm