VH-UXH Lockheed 10A Electra (c/n 1060)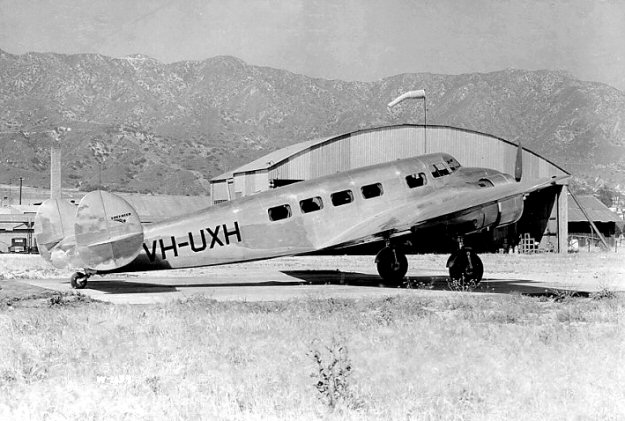 This shot is from the Pete Clukey collection and came from Lockheed Aircraft (now Lockheed
Martin) files. It depicts VH-UXH at a very sparse and barren Burbank in 1936 prior to its
shipment to Guinea Airways. No company titles had, at that stage, been applied. It was
intended to be used in services in Papua/New Guinea but was found to be unsuitable for this
rough work. In the event it was used mainly on war-time courier services between Adelaide and
Darwin, and, after WW II was sold to Union Airways in New Zealand as ZK-ALH. The
gorgeous shot below is from the J.T. Harrison collection (via Phil Vabre) and shows the aircraft
over Melbourne showgrounds and Flemington Racecourse. The name on the nose is "C.J. Levien"
in honor of the founder of Guinea Airways, and there also appears to be a blemish to the aircraft's
skin aft of this name. The third photo shows -UXH in service with Guinea logo and titling, whilst
the next image is an interesting one from the Robert Milburn collection showing -UXH ar Oodnadatta,
SA in 1939 with a bunch of newly delivered Ansons. Pursuant to its wartime service, the photo at
the foot of the page from the S.A. State Library collection (via Fred Niven) shows -UXH in camou-
flage.......dark upper surfaces, light underbelly.