VH-UXB de Havilland D.H.90 Dragonfly (c/n 7513)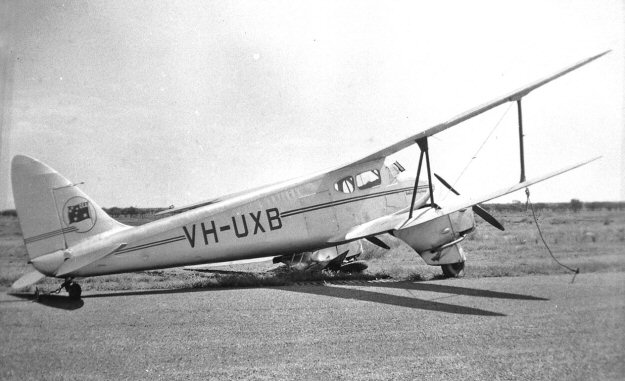 As indicated elsewhere in my narratives, the Dragonfly was

very

prone to ground looping.
The above shot, from the Ben Dannecker collection, shows VH-UXB after one such instance
while it was in Qantas service in the mid 1940s. Locale given as "somewhere in western Qld".
Below is an image from the John Oxley Library, State Library of Queensland collection. The
name on the nose reads

"Dragonfly"

. I assume it was used in support of Flying Doctor
services? The next image, from the Geoff Goodall collection also at Archerfield shows the
aircraft after it had just been assembled by Qantas in 1936 and before painting. Finally, at the
foot of the page is a photo from the Robert Milburn collection showing -UXB in Qantas service
with a couple of the 'local boys'. Venue and date not known, but circa 1939. After WW II
(1947) VH-UXB was sold to Connellan Airways at Alice Springs, and was operated by them
until being withdrawn from service in 1951.