VH-UWB de Havilland D.H.60G Gipsy Moth (c/n 450)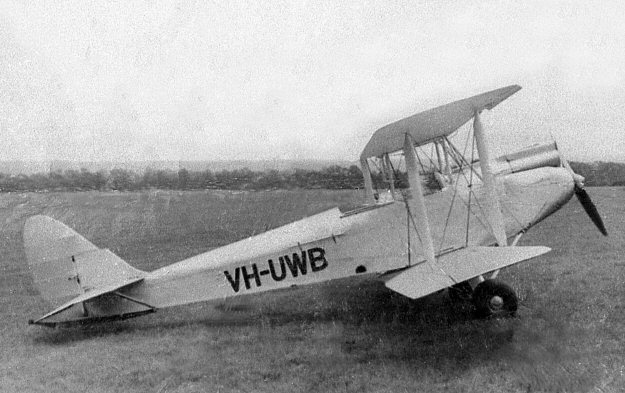 With the exception of VH-UWB seen above in this photo taken from the CofA (via Geoff Goodall),
the VH-UW series was not allocated. It is assumed that the reason for this was the possible confusion
with the "double U' identity before the general use of phonetic call signs. Anyway, VH-UWB was
one of the Moths manufactured by the Larkin Aircraft Supply Company of Melbourne in 1930 for the
RAAF and it became A7-28. When it crashed on 3 April 1932 at Mascot, the wreck was acquired
from the RAAF for twenty quid by flying instructor W.E. Brown who, at the time, was a serving RAAF
sergeant with 3 Squadron at RAAF Richmond. He rebuilt it with a Cirrus III engine and convinced the
CAB at the time to allow him to use his initials after the VH-U. Surprisingly this request was granted
and the aircraft was registered VH-UWB on 5 November 1933. It was the only VH-UW (pre-war)
registration. The Moth crashed (again) into the Cooks River on landing approach to Mascot on
10 February 1934. Unfortunately Brown and his passenger, Sergeant J.A.B. Bundy of the Citizen's
Air Force were both drowned. The photo immediately below is from the Howard K. Morris collec-
tion, while following that is a take off of a newspaper image which appeared in the Sydney Morning
Herald of 12 February 1934. Despite this the aircraft was rebuilt again, this time by Tugan Aircraft
Ltd at Mascot with a Gipsy II engine and given the new c/n of TA/R51. It was purchased by Dr. G.
Heydon a well known Sydney gliding enthusiast. Following more crashes and rebuilds (not surprisingly,
the RAAF elected not to impress the poor old thing into military service during WW II) it wound up being
loaned to the Royal Aero Club of NSW and was used during the war for military pilot training. Its finale
was spectacular and occurred at Mascot on 28 February 1944 when Vultee Vengeance A27-409 stalled
on approach and crashed on top of it whilst it was parked outside a hangar. Both aircraft were totaled
and the two crew of the Vengeance were both killed.