VH-UVQ Short S.16 Scion (c/n S.791)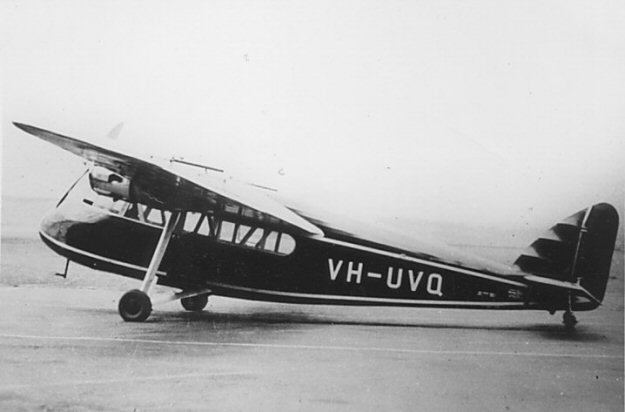 VH-UVQ was another of Adelaide Airways' Scions, which transferred to ANA after
the take-over
in 1936. The above photograph was acquired in 1947 from ANA, whilst that immediately below,
from the Civil Aviation Historical Society of South Australia shows it in situ at Adelaide in 1935.
Following its service with ANA it was sold in 1937 to N. D. Healy of Sydney. From the Graeme
Parsons collection (image # 3) comes the shot of it at Mascot in 1937 after its disposal by ANA.
In 1938 it went to
Aerial Transport and Training Ltd of Brisbane to be used on a Brisbane-South
Coast service. . By then it was equipped with floats, which apparently had been fitted in Sydney
before being flown up to Brisbane.
The fourth photograph is from the John Oxley Library, State
of Queensland collection, and shows -UVQ on an improvised slipway on the Brisbane River. The
seaplane wound up in a shed near this same river and was put up for tender in 1939. Receiving
no takers, it languished during WW II and was finally struck off the register in 1946. At the foot of
the page is a photo which appeared in the Brisbane Courier Mail for 14 October 1938 whose caption
reads: 'Wheeling a Short Scion seaplane overland to Cook's River, Sydney where floats were refitted
for its flight to Brisbane today.....' The use of the word 'refitted' is interesting, suggesting that it had
periods on and off sea boots.