VH-UVO de Havilland D.H.60M Moth (c/n 1496)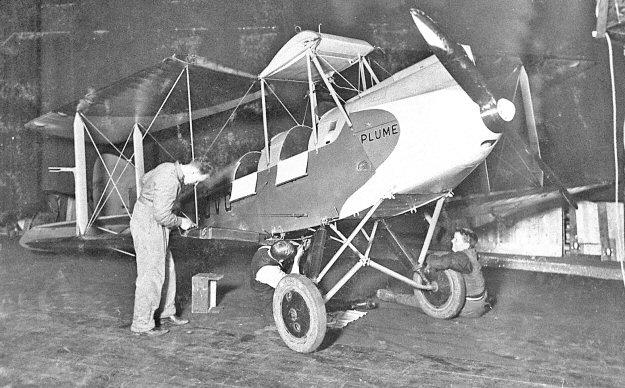 This Moth had an 'out-of-sequence' registration, the 'VO' being requested from DCA for the
Vacuum Oil Company. It was first registered to that concern in May 1930 (the rest of the
VH-UVs would not be issued until 1936). The above shot comes from the John Hopton
collection and shows the aircraft on a stage at the Regent Theatre in Melbourne where it was
displayed for some kind of Vacuum Oil Company event The aircraft was named '

Plume'


being the description of the company's logo . In 1931 it was fitted with balloon type tires
known as 'doughnuts' to experiment the cushioning effect of such gear in operating from rough
country strips. The photograph below, from the archives of the Civil Aviation Historical
Society files shows it at Mascot with Major de Havilland, D.S.O., Managing Director of de
Havilland Australia Pty Ltd, and Mr. F.W. Haig, Chief Aviation Officer for the Vacuum Oil
Co. along with their technical support bloke, having just fitted said tires. When sold to the
Australian Aero Club (Tasmanian Section) at Launceston in May 1936, I suspect the balloon
tires had by then been replaced with standard gear. . VH-UVO was written off in a crash on
18 May 1939. The newspaper clipping shown at the foot of the page, and extracted from
the Launceston Examiner for 20 May 1939 by Graeme Parsons, shows the wreckage.