VH-UVH (2) Porterfield 35-70 (c/n 242)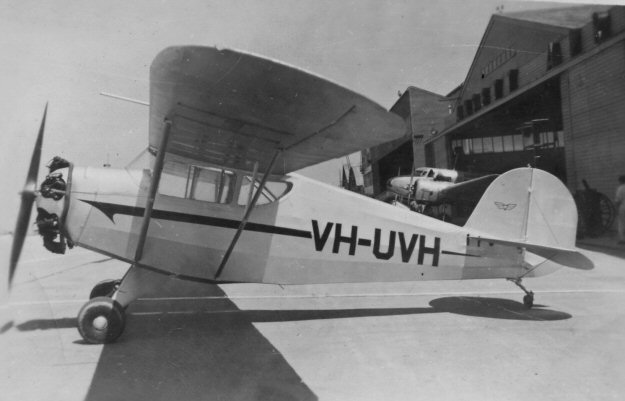 This aircraft has had a long (and somewhat chequered) history. In 1935 Reg Ansett, a legendary figure
in Australian civil aviation purchased this Porterfield and proceeded to give flying lessons in it, as a way of
creating interest in the concept of forming an airline to ferry farmers in up-state Victoria into Melbourne.
The result, as we all know, ended in the giant airline Ansett. In December of 1936, Mr. Ansett entered
the diminutive Porterfield in the Brisbane - Adelaide Air Race. He was ultimately awarded first prize
(of five hundred pounds) after protesting about the handicap system employed for the race. The nice
photo above was taken by Wally Dalitz (via Kevin OReilly) at Essendon on 31 December 1946.
VH-UVH was one of the aircraft which was badly damaged in the hangar fire at Essendon in February
of 1939, which almost brought about an early demise to the then fledgling Ansett Airways. -UVH was
withdrawn from use in 1950 and struck off the register in August 1951. It re-emerged in February 1952
with a new CofR and CofA and sporting a 75 hp Continental A-75 engine as seen in my shot (below)
at Moorabbin in 1954. Following that is a pre-war photograph from the John Hopton collection
showing the Porterfield in its original form and livery, and with the 70 hp Le Blond power plant cowled.
After its 1952 rebuild this aircraft had a succession of owners over the past sixty (almost) years. Photo
No. 4 is by Grahame Higgs taken at Clifton, Queensland in 1995. It is still at Clifton and Ian McDonell
took a shot of the tail of it in the hangar in July 2016 (foot of page).