VH-UVG (1) de Havilland D.H.89 Dragon Rapide (c/n 6314)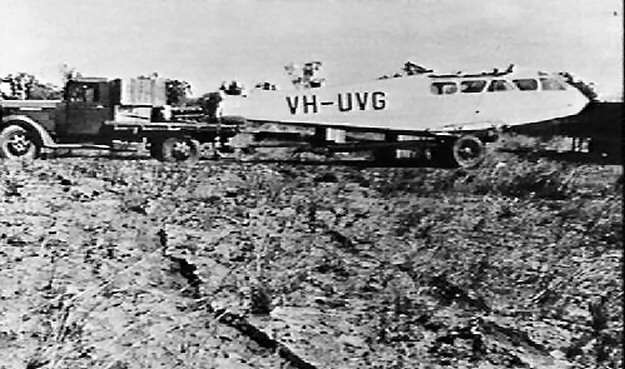 That this Rapide did, in fact, carry its ntu Australian registration is born out by this shot, unearthed
from the Northern Territory Library collection by my investigative sleuth, Graeme Parsons The air-
craft was delivered in April 1936 for the RAAF as VH-UVG. It became A3-2 and is seen below
in its more 'normal' livery in the image below from the Mike Mircovic collection taken at Laverton
circa 1937. It was originally based at Port Hedland as part of the North Australian Survey Flight
(NASF). It then force landed in the bush near Camooweal in far west Queensland on 13 April 1936.
but was not found until some nine days late. It was then trucked all the way back to Laverton for
repair. The above shot was taken somewhere during that salvage operation. When returned to
service it was given its RAAF serial and -UVG was re-assigned to the Vega Gull . The Rapide
suffered another forced landing on 21 May 1937 in the Gibson Desert. This time it was repaired
in situ and flown out nine days later. It was finally written off in a ground loop at Laverton on
3 February 1938, and thus led a fairly short life.