VH-UVC Comper Swift CLA-7 (c/n S32/10)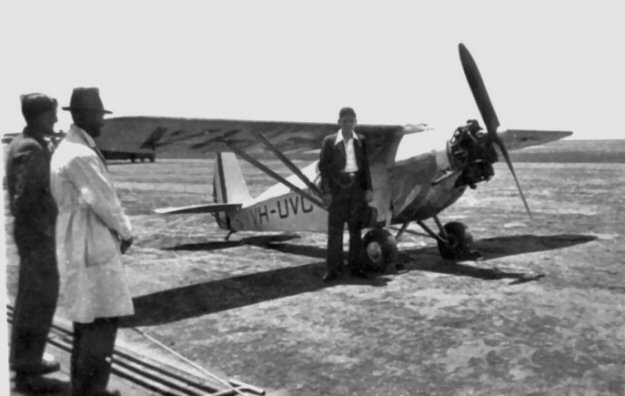 Here's Comper Swift VH-UVC when it was owned by the Royal Victorian Aero Club with a very
young Richard Maclean in attendance! This shot was probably taken in the late 1940s. The identity
of the other two gentlemen (one of whom looks distinctly like a gauleiter of yesteryear!) is unknown.
Below is a shot I took of it in 1955 at Moorabbin. And finally, just received, is the lovely color shot
(bottom) by intrepid airman Barrier Colledge, seated in the cockpit just prior to his second sortie in the
machine on 12 May 1958. Note the Townend ring cowling fitted at this time and the all consuming
orange day-glo paint. The then owner Keith Torr, is seen standing behind the engine, clutching the
mandatory rag for wiping the excessive oil spillage. Keith turned the aircraft over when he had an
engine failure on approach to Moorabbin the following year. It has not, we think, flown since.
Dr Roy Fox currently holds the airframe for prospective restoration, and a photo in a magazine about
5 years ago showed it in a very dismantled condition. Incidentally, the Pobjoy Niagra came from the
Klemm Swallow VH-UUJ.