VH-UUS de Havilland D.H.83 Fox Moth (c/n 4044)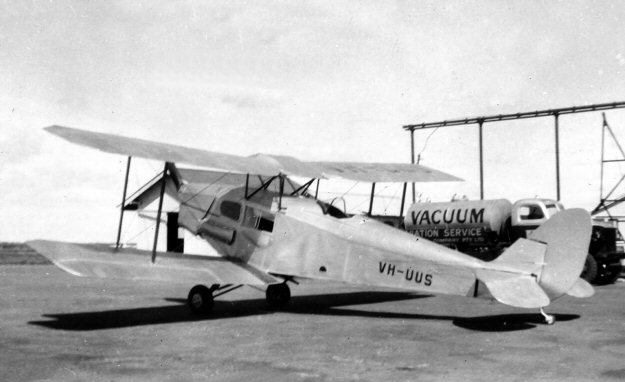 Two photographs of this interesting Fox Moth from the Geoff Goodall collection. The one above
was taken at Mt. Isa, Queensland around 1949 when the aircraft was owned by C.W. Lanham.
It had been imported from the UK (ex G-ACCS) in 1937 for Mandated Airlines Ltd of Salamaua,
New Guinea. It was sold to Qantas in 1942 and was a late impressment into the RAAF, this event
not occurring until August of 1943, wherein it became A41-9. Released after the war, it was owned
by the Federal Methodist Inland Mission, headquartered in Key, Victoria. Lanham acquired it in
1947. In 1955 it was registered to Johannes Bjelke-Petersen (later 'Sir' and Premier of Queensland).
who, in those days, ran a crop dusting operation out of Kingaroy. (He also had some Tigers and an
Anson). I assume he modified the Fox Moth to put the hopper in the passenger cabin. VH-UUS
was purchased by Cropcair Aviation Pty Ltd in 1960, and the shot below, taken at Toowoomba,
Queensland in 1961 by Darryl Connell, shows it in its duster configuration. Note external lever to
open the hopper for the seed spreader attachment on the belly (like a 1920s sports car hand brake).
The Fox Moth was re-registered VH-CCH in 1964, finally being written off in a crash at Barney
View, Queensland in December 1965.