VH-UTS Junkers F.13ke (c/n 2074)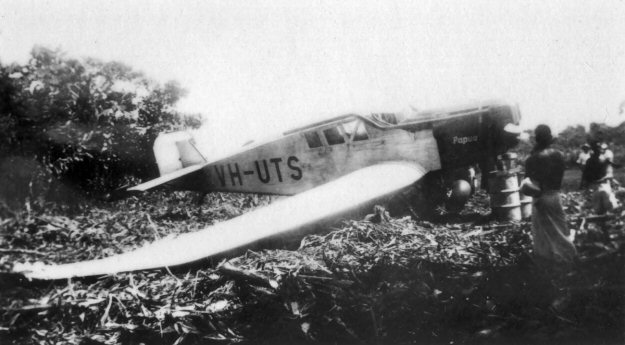 Here's a "better than nothing" image of a Junkers F.13 after an accident in New Guinea, date
and venue unknown. Image from the CAHS archives in Melbourne. VH-UTS was originally
registered in the U.K. as G-ABDC on August 23, 1930. It was named "Papua". I have not
been able to glean the exact historic timetable, but in order to be imported into New Guinea,
(some sort of import restriction) it was first reregistered in Sweden as SE-AEC in 1934..
In March 1935 it became VH-UTS for the Lutheran Mission. Clearly it was repaired from
the above mishap, since on 14 September 1939 it was flown (stolen?) by two German pilots
to Merauke, Dutch New Guinea, rather, I suppose, than face being interned. Just what
happened to -UTS after that is not clear. Scrapped, there, no doubt.