VH-UTO Fokker F.XI Universal (c/n 422)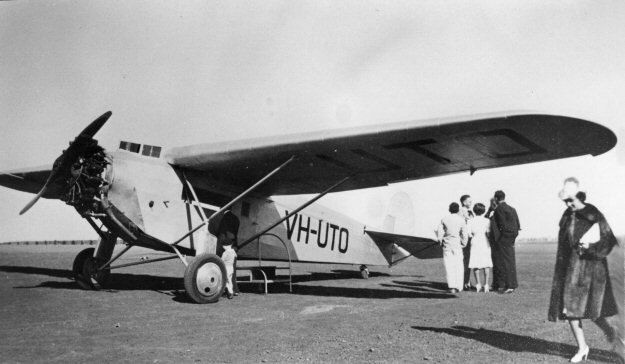 The Universal was the first Fokker commercial aircraft to be designed and built completely in the
United States. This manufacturing division of Fokker was originally set up in 1923 as the Atlantic
Aircraft Corporation, based at Teterboro. The name was changed to Fokker Aircraft Corp in 1925.
VH-UTO was built as G-EBUT in 1927 (assigned the US registration [NC]3199 but never carried)
for Lady Maia Carberry, a British aviatrix with African interests. She took the Universal (appropriately
named

'Miss Africa'

) to Kenya whereupon it was re-registered VP-KAB. It was repatriated back to
the UK in 1929 and reverted to G-EBUT. The photo of it as G-EBUT at the foot of the page is from
the CAHS archives. After ownership by a series of air taxi companies in the UK it was purchased in
June 1935 by G.H. Purvis* and R.A. Savage of Sydney, dba Western and Southern Provincial Airlines
(WASP) and registered VH-UTO. By this time, and somewhere along the way, the original open
cockpit had been enclosed. Reg Ansett of Hamilton, Victoria acquired it six months later (January
1936) and put it to work on his embryo airline. Unfortunately, VH-UTO was one of the aircraft
destroyed in the disastrous hangar fire at Essendon on 28 February 1939. The photo above is from
the Geoff Goodall collection and shows the Fokker probably at Hamilton in the late 1930s whilst it
was in Ansett service. The image below illustrates a replica made up for Ansett Airways in the 70s.
It was used in company promotions as "Reg's first airliner" then suspended from the roof of the Ansett
terminal at Tullamarine for a several years. Phil Vabre offers the shot at the foot of the page of this
replica as it now appears. But is it really it replica? It was built up from a genuine Fokker Universal.

* Harry Purvis had a fantastic long flying career, recorded in a very nice book "Outback Airman"
published in the 1970s while he was still flying for Eddie Connellan. When WW2 broke out, Harry
was flying Lockheed 14s for KNILM, so he went into the RAAF as an instructor on the Hudsons
then being delivered and which were proving to have flying vices - Harry and several other civil airline
pilots are credited with instilling the discipline needed to fly Hudsons safely.