VH-UTM GAL Monospar ST.12 (c/n ST12/41)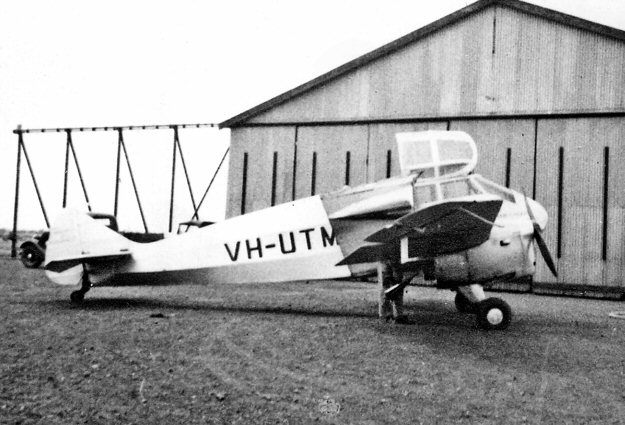 The above photo is from the Ben Dennecker collection (via Geoff Goodall), date and venue un-
known, but was most likely taken whilst the machine was with its original owner, New England
Airways Ltd., of Sydney. At that time it carried the name

'Captain Flinders

' and that titling
is barely visible on Ben's original print. . Another shot of -UTM below is from the Frank Walters
collection, showing it at Mascot, circa 1938 in revised livery. The shot at the foot of the page is
from Kevin O'Reilly of Nhill who unearthed it while doing his extensive research into the aviation
history of Western Victoria.. It depicts -UTM in a paddock outside Dimbolla, Victoria when the
AoA/ANA DC-2

'Bungana'

made a forced landing there on 8th February 1940 due to the star-
board engine being on fire. In fact, the engine fell away before the landing, as can be seen in the
photo. ANA Captain Norman Croucher did a fine job and neither passengers or crew were
injured. The Monsopar had been absorbed into the Airlines of Australia fleet on 1 January 1936.
It was transferred to Australian National Airways Pty Ltd in December 1938, and then, for some
reason, back to the AoA corporate identity in April 1940. On 16 February 1942 it disappeared
between Horn Island and Cairns, Queensland. Three days later, on the 19th, the pilot and
passengers were found at Orford Bay, Qld. The Monospar was officially struck off the register
the following month.