VH-USF de Havilland D.H.86A (c/n 2310)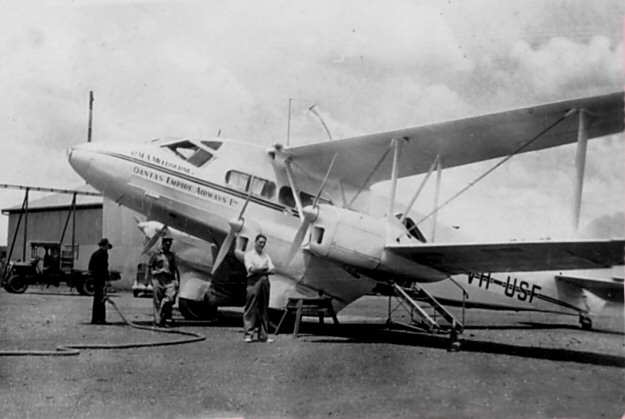 Two cropped images of this D.H.86. Above is an historic shot is from the "family album' of Bob
Livingston. Venue unknown, possibly Coolangatta, circa 1938. The lower shot is from the John
Oxley Library, State Library of Queensland collection. VH-USF was delivered to Qantas Empire
Airways in January 1935 and given the name

"R.M.A. Melbourne"

. It was impressed into RAAF
service in1940 as A31-6. Although in military uniform it was operated by Qantas throughout the
war. It crashed during take off at Blackall, Qld on 9 July 1944. The wreckage was acquired by
MacRobertson Miller Aviation in February 1945 who restored it to health, only to prang the bloody
thing again some four months later at Geraldton, WA. This time it stayed off the register.