VH-URL de Havilland D.H.60GIII Moth (c/n 5052)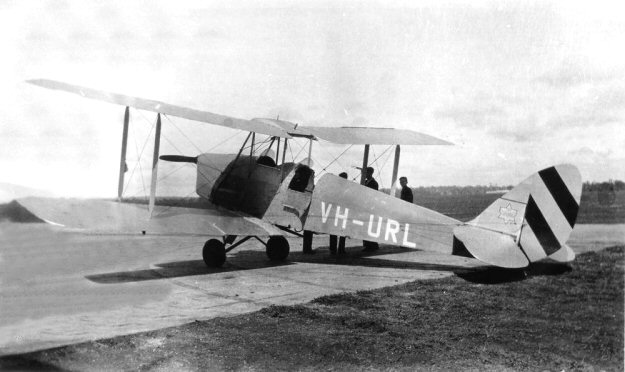 In 1931 de Havillands took a Gipsy II engine and turned it upside down and re-designated it the
Gipsy III. This engine was then fitted to the Moth to create the D.H.60GIII. At first glance it is
almost indiscernible from a Tiger Moth. This example was operated by the Royal Queensland
Aero Club from 1935 until it was impressed into RAAF service as A7-82 in 1940. The above
image, from the John Oxley Library, State Library of Queenland collection, appears to show the
aircraft in camouflage, but still civily registered. In the photo below, from the John Hopton coll-
ection, the Moth is seen pre-war in the RQAC's all silver scheme. 57 of this model were built
including ten as fuselages for the Royal Air Force as Queen Bee target drones. Following abuse
by cadets (several forced landings) during WW II, A7-82 was "reduced to produce" in July 1944.
VH-URL, like most of the Moths, suffered its share of accidents. On 5 December 1935 it was
flying back from Sydney to Brisbane with RQAC member Mr. D.R.Way at the controls and a
Mr. Howard Eakins as passenger. Poor visibility forced the pilot to make an emergency landing
on the golf links adjacent to Crescent Head, NSW. Upon take off later the machine struck a
fence bordering the golf course and the seashore careening into a tent containing an elderly woman,
Mrs. V.A. McKernan, who was killed and her daughter, seriously injured. Both pilot and passenger
sustained minor injuries. The grainy image at the bottom of the page is from the Sydney Morning
Herald for 7 December 1935. Despite the horrific damage visible in this photo, the aircraft was
rebuilt and went on to suffer at least one more serious accident when it overturned at Evans Head,
NSW in September 1939. Clearly these old Moths were much more durable than today's spam
cans are!